Granite Countertop Cleaning
In most homes, the kitchen is the gathering place for families and friends to spend time together and the centerpiece of any kitchen is the beautiful granite countertops. Granite provides elegance and beauty to your space and its durability makes it last for many years. Let Commonwealth Chem-Dry's Granite Countertop Cleaning and Renewal service ensure that your granite countertops will last a lifetime and retain their luster and shine. Regular maintenance, cleaning and sealing is recommended in order to accomplish this.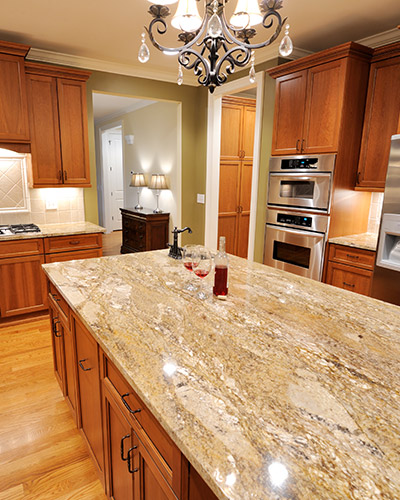 Trust Commonwealth Chem-Dry to restore your granite countertops and protect them from dirt, residue, and water spots. Granite is porous natural stone. The powerful deep cleaning equipment that we use along with our green certified solutions that are safe for your family penetrates deep within the granite to eliminate dirt and grime. We then seal the countertops to restore their beauty and shine and extend the life of the surfaces.
Commonwealth Chem-Dry's Four Step Renewal Process:
Our trained and certified technicians will review the process with you which typically involves four steps:
Clean and Scrub: Our proprietary Granite and Countertop cleaning solutions will remove dirt and grime that has built on your granite countertops over time.
Remove Residues: Once cleaned, we will then remove any residues from the granite countertop with Chem Dry's Granite Countertop Residue Remover.
Seal: During the third phase, we will apply our Granite Countertop Sealer which penetrates the granite surface, and dries in just a few minutes, leaving your countertops with a powerful layer of protection.
Polish: Finally, we polish the countertops using Chem-Dry's proprietary Granite Polish that will leave your countertops shiny and refreshed for you to enjoy for years to come.
You can trust Commonwealth Chem-Dry to improve the health and beauty of your home by cleaning unwanted elements from your Granite Countertops and protecting them from future buildup. Whether it's your bathroom, kitchen or even an outdoor area, we will help maintain and restore your investment with our expert Granite Countertop Cleaning and Renewal Process.